AJ Garage Door Repair of Bristol
Why Use Professionals In Garage Door Repair Bristol?
Your garage door will break down at some point. Your garage door comprises of various components all with different functions and operating differently to impact the overall operation of the garage door. The components develop problems sometimes. A DIY agent or the homeowner can handle some of the replacements and repairs without adequate garage door skills and knowledge.
However, for most repairs and replacements, it is best to hire experts in garage door repair Bristol. Some parts of the garage door operating mechanism can be dangerous especially if handled by anyone other than garage door repair experts. Here are such garage door problems.
Spring replacement
Breaking one or more springs in your garage door could mean disaster. With a broken spring, the garage door will not function as is expected. You must ensure that the garage door springs are replaced as quickly as possible to avoid getting inconvenienced.
Garage door springs must never be replaced by non-professionals. The spring is a part of the garage door than only a professional can handle effectively and safely. Replacement of springs is a dangerous task that can even cost you your life.
Garage door repair Bristol experts have the proper training and are adequately skilled to replace the springs without suffering some of the common injuries associated with the activity.
Panel Replacement
If you ever need to replace one or even several panels on the garage door, you must always remember that it is not an easy task and you therefore should not do it on your own. Due to the safety hazards involved in this activity, it is a task best left to garage door repair experts.
A garage door repair expert can help to determine the cause of the damage for you thus helping you avoid similar incidents in the future. Panel replacement is one area that causes lots of damages especially if not handled in the right way, which only an expert can make possible.
Broken Cables
Garage door cables play an important role in ensuring the effective and smooth operation of the whole unit. The cables operate under much tension and have the potential to cause injuries or even fatalities especially if not handled with the necessary care and skills.
Since cables operate under a lot of tension, it makes it quite dangerous to fix them especially if you are not knowledgeable about garage door replacements and repairs. Replacement or repair of broken cables is another activity that is best handled by a seasoned professional.
Roller Replacement
The garage door rollers break or bend rather easily. Once the rollers wear out, bend, or break, replacement is the best way to ensure that your garage door remains functional and safe. You must never attempt to replace the rollers by yourself if you are not a seasoned professional since you risk injuring yourself or doing a poor job if you do it.
Garage door repair professionals perform better in terms of roller replacement. In addition, they have the right tools and safety equipment to complete the process of replacement or repair. You should not try to save some money at the expense of your safety or even life.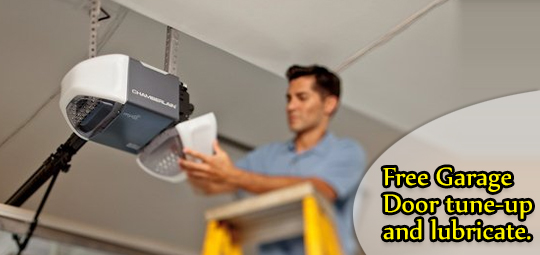 So far, this article has really emphasized the importance of using garage door repair professionals for repairs to your garage door. Here are some additional benefits associated with using garage door repair professionals:

Getting the Job Done Right the First Time Round
You obviously want the job done right from the start. If you choose to undertake the repairs yourself you are likely to make mistakes and will have to repeat the process. This is a waste of both time and money since you will have to call in a professional to do the repairs in the right way. Garage door repair professionals have the necessary equipment, skills, and experience to handle any problems.
Safety Guarantee
As previously stated, garage door repairs pose serious safety hazards to those that are not experienced or don't have the proper gear. It is good to hire professionals to ensure that you don't expose yourself to these hazards. Professionals know the best way to handle each situation and will never expose themselves to unnecessary risks.


Genie
Lift Master
amarr.com
chiohd.com
raynor.com
clopaydoor.com
haasdoor.com
doorlinkmfg.com
Quality Service
Garage door repair or replacement involves a lot. It involves replacement of components as well as determining the source of the problem to ensure that it does not recur. A professional is best placed to do this since he or she has probably handled such a situation previously. In addition, professionals have the necessary equipment and experience to handle repairs.
Conclusion
Garage door repair is a highly dangerous activity that no amateur should attempt to do by himself or herself. This article has looked at some of the repairs that you must never attempt by yourself as well as the benefits of hiring experts in garage door repair Bristol. The next time you are in need of garage door repair, do call in a professional.